Thanks for printing! Don't forget to come back to The Home Fix-It Page by Dave Baker for fresh articles!
Dave's Solar Energy Experts
Creative Solar USA
Creative Solar USA specializes in creative solutions for your home's energy needs. We are a Georgia-based, turn-key installer of innovative solar panel systems, dedicated to alternative energy solutions for your home or business. We are passionate about providing alternative and cheaper energy solutions, creating sustainability for our planet be reducing harmful byproducts from energy production, ultimately saving you money on your energy bills and creating a more eco-friendly home.
At Creative Solar USA, our comprehensive project approach gives you the power to choose, and with zero money down payment options now available, solar is more affordable than ever. Creative Solar USA works with you and your family to meet all of the bottom line objectives. Our staff of experienced and certified installation professionals are dedicated to using the highest quality solar panels and products with industry 'best-practices' to customize every solar installation according to your requirements. We are trusted by many energy providers as communities within the state as their solar energy provider, such as Cobb EMC, City of Atlanta and the City of Decatur. Furthermore, we have installed more solar panels in Georgia than any other company.
A few reasons to choose Solar Energy for your home:
Current federal tax credit of 26% (as of March 2020, to be changed), that's a 26% dollar-for-dollar tax credit on your next tax return.
Ginormous long-term savings on your monthly energy bills
Potential incentives from your utility company
Increase resale value of your home
Become independent from your power company - you can be "off the grid" and won't have to depend on a utility company
Feel better about being a steward of the environment by having a more eco-friendly home
Why Choose Creative Solar USA for your home's energy solutions?
We've installed more systems in Georgia than any other company, our installers are the most experienced in the business
Quality of work - we stand behind our work with industry-leading warranties and certified installation crews, so your warranty will hold up should anything go wrong.
Our installers our are employees - we don't use contractors
Endorsed by Cobb EMC, City of Atlanta, City of Decatur, Dekalb County, and other city/state organizations that have used our services for solar.
Going Solar Makes Cents! Contact us today to start the process and learn how you can save huge money on your home's energy bill.
Business Information
9 AM - 5 PM Monday - Friday
Visa

Mastercard

Amercian Express
Financing Available
Georgia
Service Categories
Creative Solar USA's

Service Area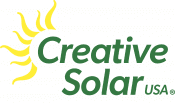 Creative Solar USA
2931 Lewis Street NW
STE 300
Kennesaw,
GA
30144