Thanks for printing! Don't forget to come back to The Home Fix-It Page by Dave Baker for fresh articles!
Attic Innovations of Georgia
If your home is 5-10 years old or older, there's a good chance it's not as well insulated as it should be. Not having enough insulation can result in energy lost, and whether you realize it or not, your home is constantly leaking energy - especially out of the attic. We help solve that problem through a variety of attic solutions, depending on your attic situation. We use only the highest quality products to insulate your home!
Some of our attic solutions include:
Attic Insulation | significantly lowers your attic temperature, lowers your energy bill and improves the comfort in your home
Attic Radiant Barriers | reflect heat away from your home, lowering attic temperatures and energy bills
Solar Attic Fans | constantly pull hot air out of the attic, lowering your attic temperatures and your energy bills
Attic Stairway Insulators | protect the opening to your attic while keeping bugs, heat, dust and allergens out of your home
We will always strive to:
Offer our customers the best in energy efficiency products, quality, and customer service
Ensure our customers' homes are most comfortable and efficient
Save our customers money on their energy bills
Be courteous and on time
What makes us the best?
We use only the best products on the market to ensure your comfort and savings
Our employees are intensively trained, are engaging, and care about you
Attic Innovations gives personal, friendly service to every customer
We back our work 100%
We are family owned and operated
We encourage you to call us anytime to discuss your home and your attic needs. We'll schedule an evaluation at your home at a time that works with your schedule, and will always strive to exceed your expectations when it comes to our services. Call today!
Check out what some of our customers are saying:
Working with Rene and Rick was a breeze. They were very knowledgeable and thorough in assessing my attic issues (even finding attic area I didn't know was there). Rick went the extra mile in helping me with some other insulation issues as well. I highly recommend them! They were also able to get to my house quickly for the installation. I had them spray the radiant barrier & add additional insulation in my attic ; put insulation in the walls in a bedroom (its an old house that had no insulation in the walls) and provided a special cover where the attic stairs are to keep the heat & cold from just pouring in the house. It all has made a huge difference in my house so the temperature throughout is more consistent. Would definitely use again if the need arises! -Jan in Sandy Springs, GA
They knew their business and communicated it well. They understood what do with a home that is over 100 years old. They were efficient and took care of insulating my home without a mess. Rick and Renee were delightful to work with, and I certainly recommend hem to others! -Amy in Acworth, GA
Attic Innovations are a great company. They are responsive, will answer all of your questions immediately and follow-up on all calls. -Jose
Business Information
Monday-Friday 8:00AM - 5:00PM
Visa

Mastercard

Amercian Express

Discover
Financing Available
Atlanta, GA and Surrounding Areas
Service Categories
Attic Innovations of Georgia's

Service Area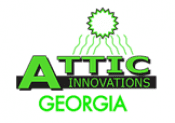 Attic Innovations of Georgia
3595 Canton Road
Suite 116
Marietta,
GA
30066